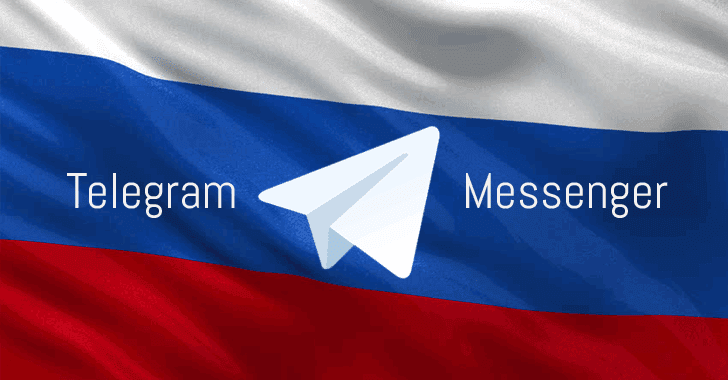 Russia's communications regulator Roskomnadzor has threatened Apple to face the consequences if the company does not remove secure messaging app Telegram from its App Store.
Back in April, the Russian government banned Telegram in the country for the company's refusal to hand over private encryption keys to Russian state security services to access messages sent using the secure service.
However, so far, the Telegram app is still available in the Russian version of Apple's App Store.
So in an effort to entirely ban Telegram, state watchdog Roskomnadzor reportedly sent a legally binding letter to Apple asking it to remove the app from its Russian App Store and block it from sending push notifications to local users who have already downloaded the app.
Roskomnadzor's director Alexander Zharov said he is giving the company one month to remove the Telegram app from its App Store before the regulator enforces punishment for violations.
For those unfamiliar with the app, Telegram offers end-to-end encryption for secure messaging, so that no one, not even Telegram, can access the messages that are sent between users.
However, despite being banned in April, the majority of users in Russia are still using the app via Virtual Private Networks (VPNs), and only 15 to 30 percent of Telegram's operations in the country have been disrupted so far, Roskomnadzor announced yesterday.
This failure leads the regulator to turn to Apple for help taking the app down.
"In order to avoid possible action by Roskomnadzor for violations of the functioning of the above-mentioned Apple Inc. service, we ask you to inform us as soon as possible about your company's further actions to resolve the problematic issue," said Roskomnadzor in the letter.
The state regulator also says that the regulator is in talks with Google to ban the Telegram app from Google Play as well.
Roskomnadzor is a federal executive body in Russia which is responsible for overseeing the media, including the electronic media, mass communications, information technology and telecommunications; organizing the work of the radio-frequency service; and overseeing compliance with the law protecting the confidentiality of its users' personal data.
Roskomnadzor wanted Telegram to share its users' chats and encryption keys with the state security services, as the encrypted messaging app is widely popular among terrorists that operate inside Russia.
Apple has primarily expressed its support for encryption and secure data in the past, but we have seen the company complying with the local demands.
Also, at the end of last year, Apple pulled Skype, along with several similar apps, from its App Store in China.
Source
https://thehackernews.com/2018/05/russia-telegram-apple-app-store.html
Related posts