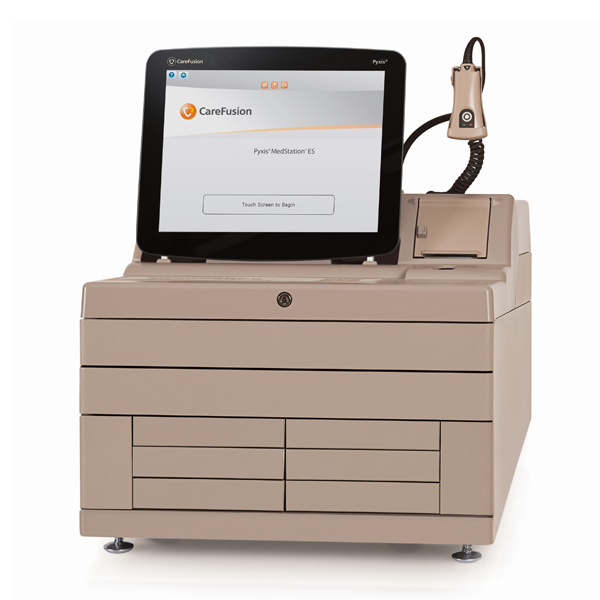 1. EXECUTIVE SUMMARY
CVSS v3 7.6
ATTENTION: Exploitable remotely/low skill level to exploit
Vendor: Becton, Dickinson and Company (BD)
Equipment: Pyxis
Vulnerability: Session Fixation
2. RISK EVALUATION
Successful exploitation of this vulnerability could allow the Active Directory (AD) credentials of a previously authenticated user to gain access to the device. This could result in an attacker having the same level of privilege previously granted to a user prior to account expiration, and could allow access to patient data and medications. For exploitation to occur, products must be actively using AD for login and be connected to the hospital domain. Users who do not use AD are not impacted by this vulnerability.
3. TECHNICAL DETAILS
3.1 AFFECTED PRODUCTS
The following versions of BD Pyxis, a medication management platform, are affected:
Pyxis ES Versions 1.3.4 through to 1.6.1
Pyxis Enterprise Server, with Windows Server Versions 4.4 through 4.12
3.2 VULNERABILITY OVERVIEW
A vulnerability has been identified where existing access privileges are not restricted in coordination with the expiration of access based on active directory user account changes when the device is joined to an AD domain.
CVE-2019-13517 has been assigned to this vulnerability. A CVSS v3 base score of 7.6 has been calculated; the CVSS vector string is (AV:A/AC:L/PR:L/UI:N/S:U/C:H/I:H/A:L).
3.3 BACKGROUND
CRITICAL INFRASTRUCTURE SECTORS: Healthcare and Public Health
COUNTRIES/AREAS DEPLOYED: Worldwide
COMPANY HEADQUARTERS LOCATION: United States
3.4 RESEARCHER
BD reported this vulnerability to CISA.
4. MITIGATIONS
BD notes that connecting medication dispensing cabinets to a hospital domain is an uncommon configuration and is not recommended by BD. BD also notes this vulnerability has been remediated in the latest release of Version 1.6.1.1, and recommends the following mitigations and compensating controls in order to reduce risk associated with this vulnerability:
Remove expired users from the relevant AD role that grants access to the Pyxis ES system.
Pyxis ES systems are not recommended to be placed on the hospital domain.
As a best practice, users should not rely on expiration dates to remove users from their hospitals' AD system.
CISA recommends users take defensive measures to minimize the risk of exploitation of this vulnerability. Specifically, users should:
Minimize network exposure for all medical devices and/or systems.
Locate medical devices behind firewalls and isolate them where possible.
Restrict system access to authorized personnel only and follow a least privilege approach.
Apply defense-in-depth strategies.
Disable any unnecessary accounts, protocols and services.
Where additional information is needed, refer to existing cybersecurity in medical device guidance issued by the FDA at the following location: https://www.fda.gov/medical-devices/digital-health/cybersecurity
CISA reminds organizations to perform proper impact analysis and risk assessment prior to deploying defensive measures.
CISA also provides a section for control systems security recommended practices on the ICS webpage on us-cert.gov. Several recommended practices are available for reading and download, including Improving Industrial Control Systems Cybersecurity with Defense-in-Depth Strategies.
Additional mitigation guidance and recommended practices are publicly available on the ICS webpage on us-cert.gov in the Technical Information Paper, ICS-TIP-12-146-01B–Targeted Cyber Intrusion Detection and Mitigation Strategies.
Organizations observing any suspected malicious activity should follow their established internal procedures and report their findings to CISA for tracking and correlation against other incidents.
CISA also recommends users take the following measures to protect themselves from social engineering attacks:
No known public exploits specifically target this vulnerability.
Source:
https://www.us-cert.gov/ics/advisories/icsma-19-248-01
Related posts